I'm not very fond of talking about myself, but based on your feedback, I need to explain a few things. As I mentioned previously, it took me 40 years from originally thinking about living in another country, to actually doing it. In 2015 I went to Thailand for a month: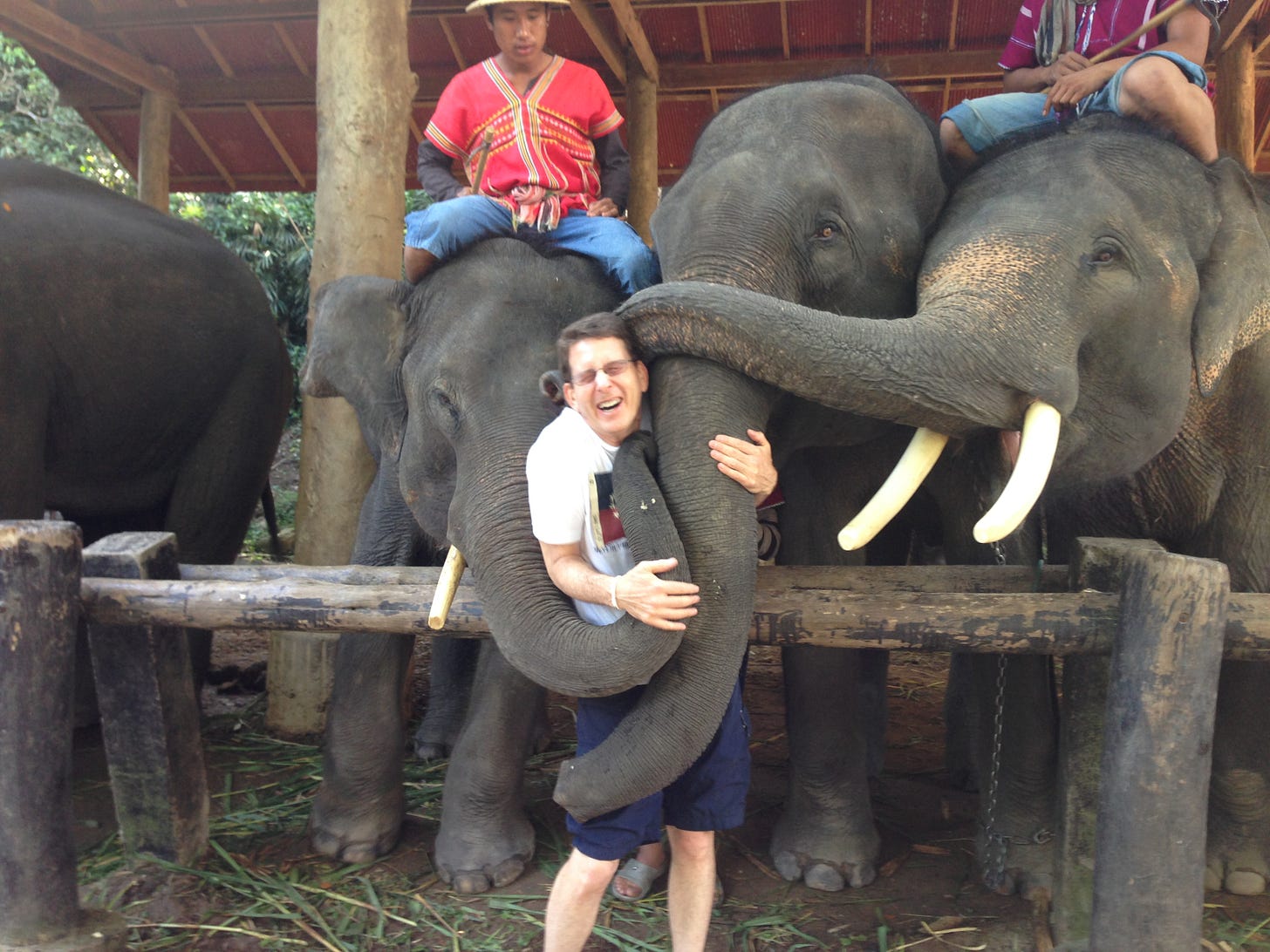 In 2016 I went to Vietnam and Cambodia for a month, and then in 2017 I went to Bali for a month. Along the way I went to Panama for about 12 days. I also wanted to spend time in Costa Rica, try Portugal, and maybe visit the Canary Islands (off of Morocco yet under Spanish rule). I even gave some thought to buying an around-the-world plane ticket for about $4,000 USD, which would have allowed for 7 stopovers.
I didn't have a definite plan. It was more of an exploration along the lines of "What would it be like to live here?" I obviously wanted to live within my means, but I wasn't sure of where I would end up.
During this time my son was in college, and so I was on my own, as I had divorced my wife of 18 years back in 2013. Initially, after the divorce, I rented a 2 bedroom apartment a few blocks from my son and my ex in order to ease the transitions for everyone. But at $2,800 USD a month rent in San Mateo, CA I saw the writing on the exceedingly expensive walls and knew that I had to make some changes.
I should mention that I originally moved to California from Rochester, NY after I sold a small software company in 1994. I see myself as an entrepreneur. After a 10 year run as a stay-at-home dad my foray back into the world of software didn't pan out.
During my one year of renting in San Mateo I decided to buy some land in Sonoma County and build a spec home (meaning to build a home in order to re-sell it):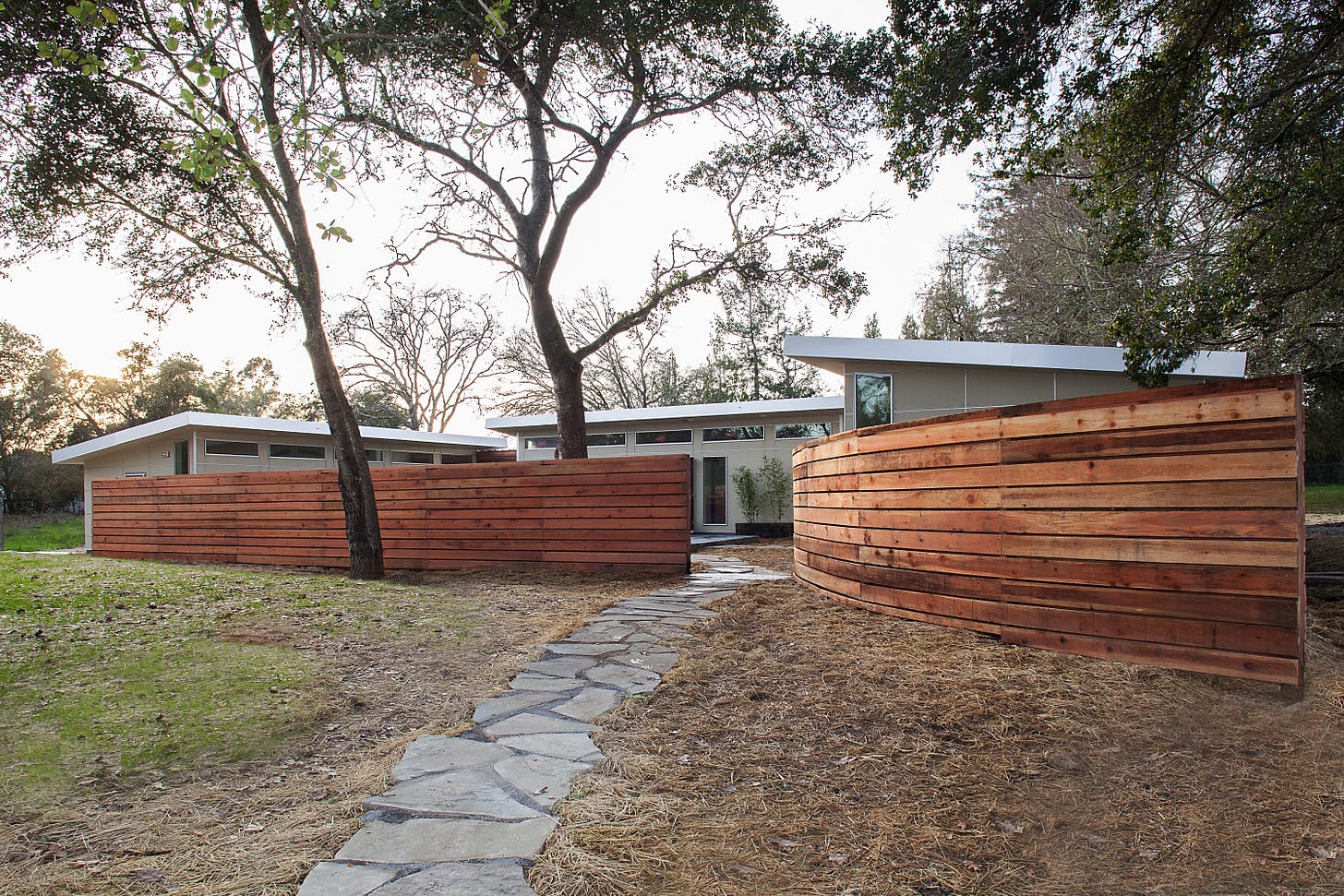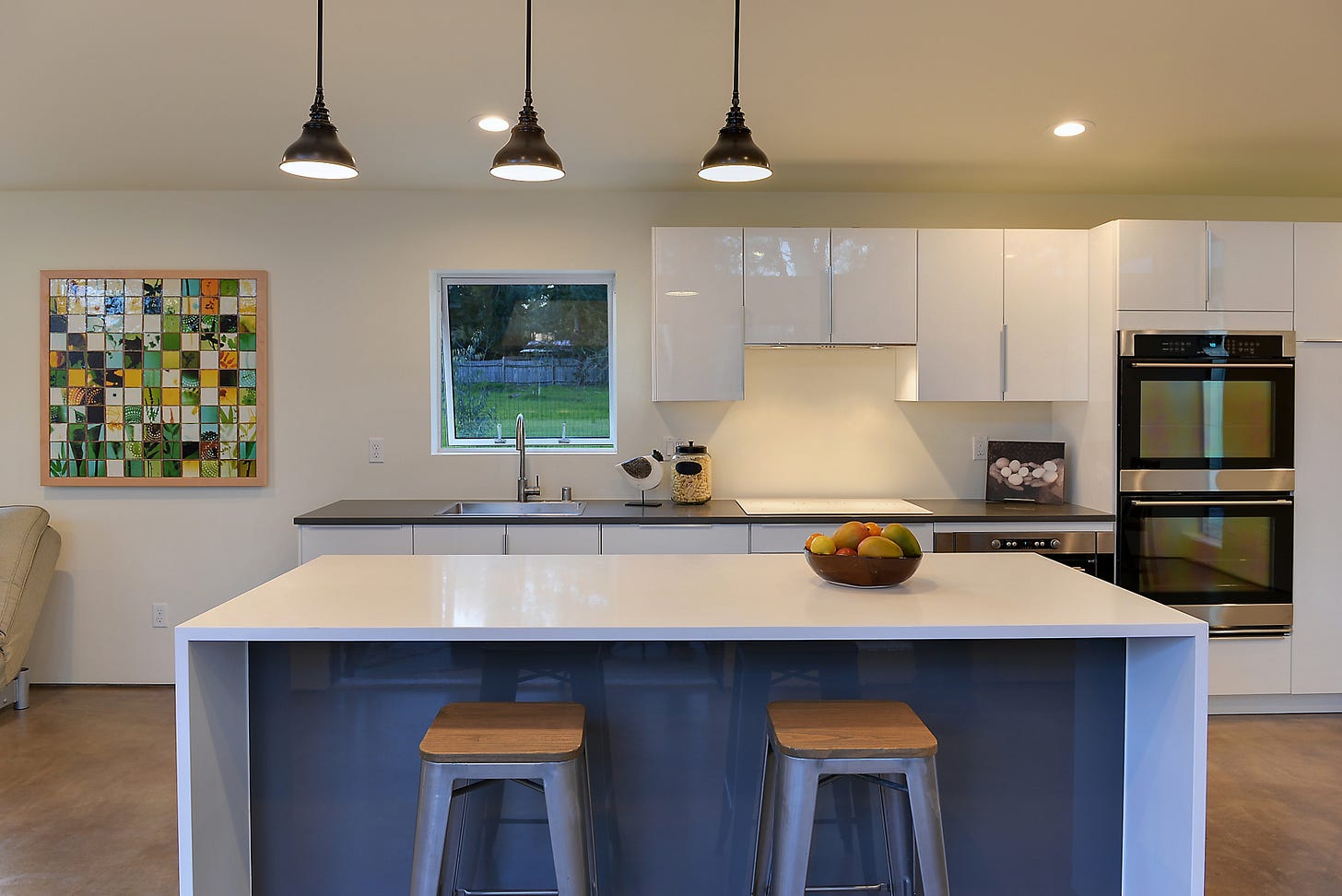 I had built a house from scratch one time before, during my marriage, and really enjoyed the process. But this time I had to rent an apartment in Santa Rosa ($1,500 USD) and drive 15 minutes to Graton in order to manage the project.
My monthly costs went down but it was a strange lifestyle. I couldn't afford to build a spec home in the Bay Area and so I was on my own (a 1.5 hour drive to my son and my Bay Area friends).
I sold the property in 2 days but the sale fell through because the buyer didn't like that the property shared a well with 3 other properties. Translation: the buyers got cold feet. I was able to move into the house and 35 days later it was sold. I made some money but wasn't sure about whether I wanted to repeat the process.
During the time in Sonoma I met a woman and we went to Vietnam and Cambodia together. Then we drove through the Northwest, looking at a possible re-location from California. I ended up in Port Townsend, Washington and bought some land on Marrowstone Island. The idea was that I would build a guest house first and then build the main house for my partner and I. The guest house would become an income source: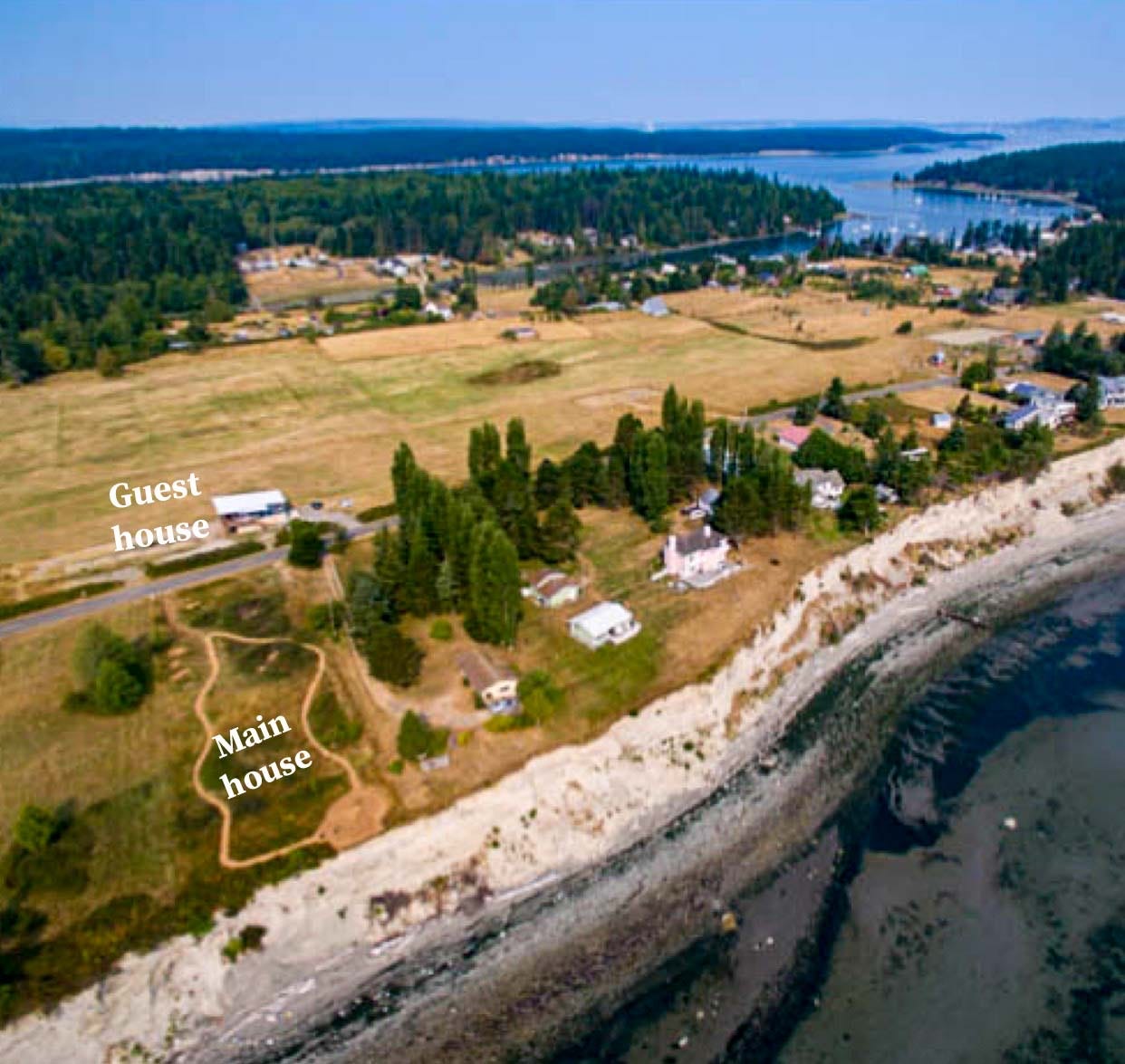 Well… the relationship fizzled before we broke ground on the main house. I did create a walking trail to the cliff view, as you can see from the above photo. I was able to sell the property in 8 days.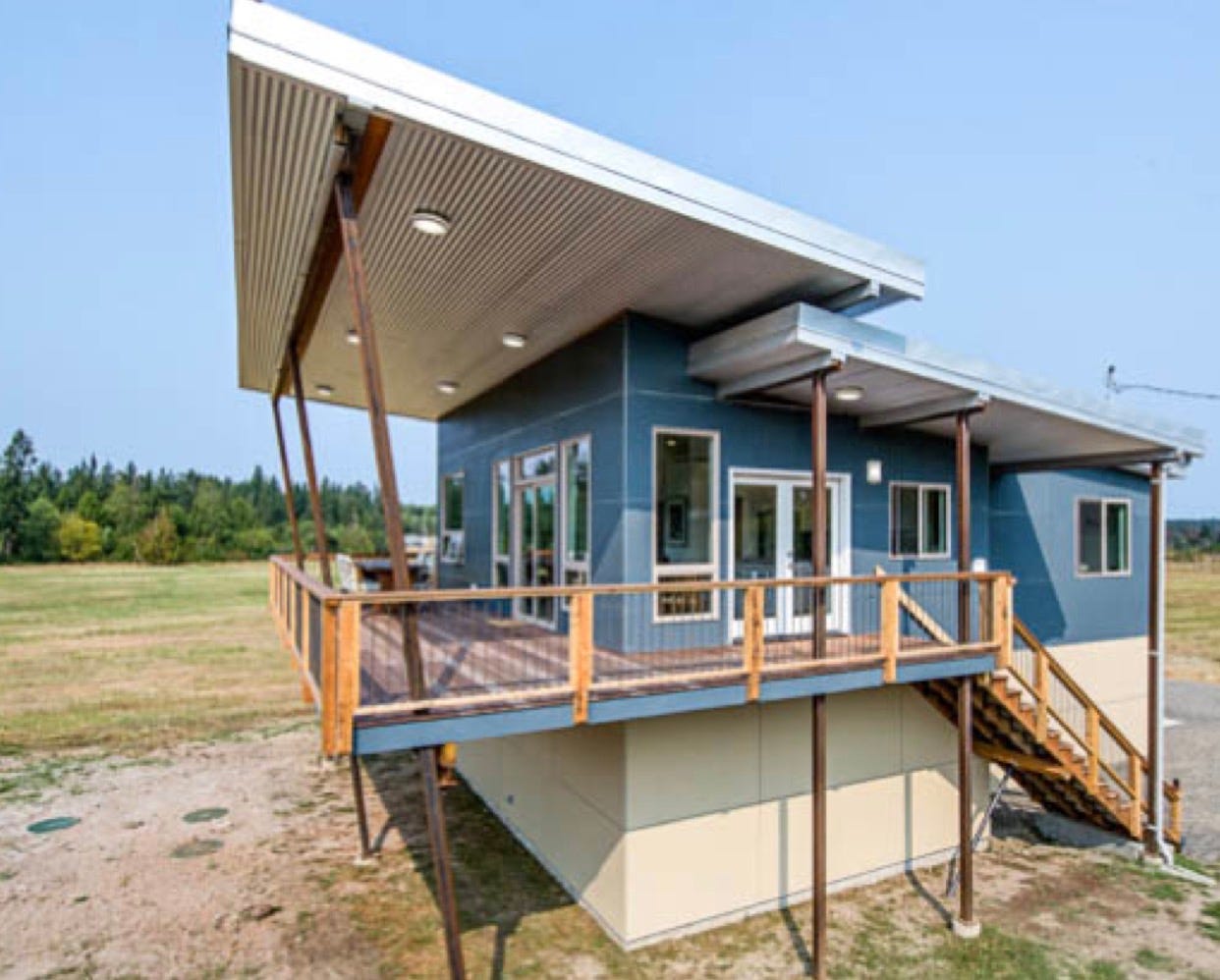 A few months before the sale I went to Bali and fell in love with almost everything about the "Island of the Gods."
I considered shipping my worldly possessions to Bali but it would have cost $4,000 USD. I decided to sell everything I owned except for one box of memories that I saved for my son. I arrived in Bali in August 2017 with the shirt on my back and two large pieces of luggage.
---
To respond to more feedback: some of the reasons why Bali intrigues me are here. In that post I discussed the lower costs, the variety of cuisines, and the unique architecture. I also love the beauty of the Balinese temples, the rice fields, as well as the unique benefits of being on an island. In addition I mentioned how friendly the Balinese are. And, as I wrote here, Indonesia is the most generous country on earth.
---
I would like to address a piece of feedback I received regarding what a subscriber described as the "colonial aspect" of being an expat (example, paying low wages to the locals). I've addressed this to some extent on my other blog, when I discussed the interactions I had with the local building crew.
I also discussed my relationship with my Balinese builder, who is now, a year after my construction project, a friend: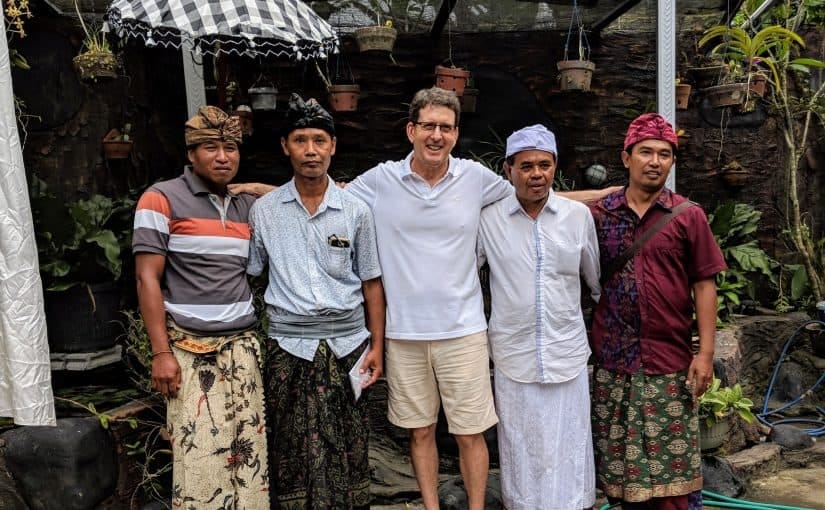 Photo: my builder Wayan is to the left of me, wearing white. He is surrounded by his partners and the head foreman (with the striped shirt).
My position on dealing with anyone, regardless of their culture, is to achieve a win-win outcome. If you are not a farmer growing your own food, then when you go buy groceries you must acknowledge that the people who picked your vegetables or slaughtered your chickens most likely earn far less than you. If farm workers were to earn corporate wages a chicken might be $75 USD.
The truth is we live in a world where not everyone is prospering equally. Call it the birth lottery. Whatever name you want to use, there will be people earning much more than you, and those who are barely surviving. Of course we want to help those that are struggling, and in fact my community concept calls for permanent living quarters for locals who want to integrate with expats.
The locals that I've had the pleasure to work with are highly creative and are always eager to show off their particular approach to problem solving.
When it comes to salaries and tips I tend to overpay and overtip, but you have to be careful. For example, when we had a crew of workers living on-site, building the place where we now live, we were told by our builder that the crew saves up their wages for cock fighting. I asked what the size of the bets were like, guessing about one person's daily wage ($9 USD) per fight. But the crew members are from the same village and it turns out they pool their bets. They also raise the chickens and train them (after their day's work is done). Turns out they bet between between 2,000,000 - 5,000,000 rupiah ($142 - $355 USD) per fight. So in this case the question becomes, should I overpay workers so that they could more easily bet on cock fighting?
I think the answer is that each country has its own rules regarding wages and that if you play by the rules and treat everyone you deal with fairly, as defined by the context of the culture, you can achieve win-win outcomes.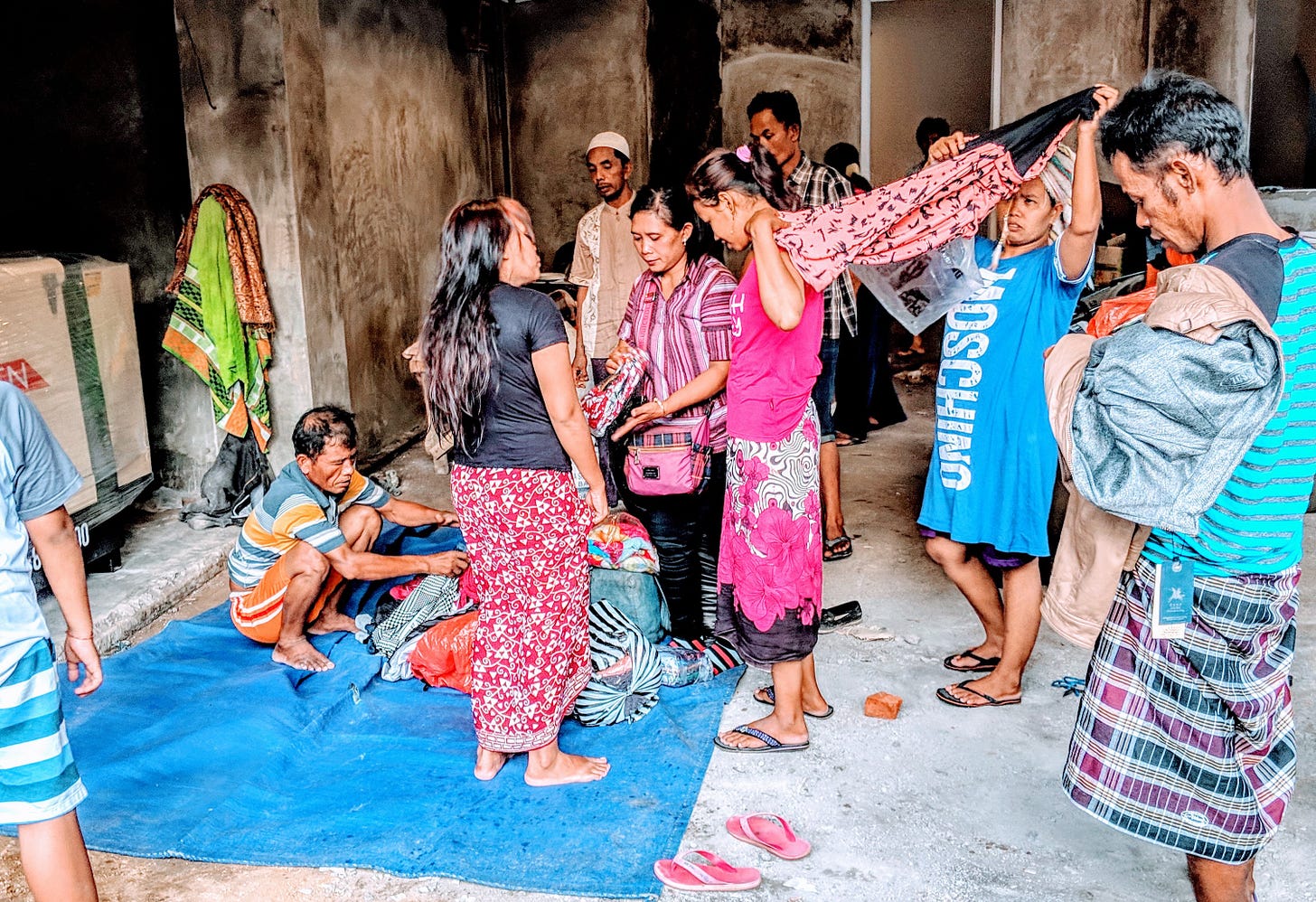 Photo: a clothing vendor arrives and my future parking area turns into a temporary clothing shop.
---
Responding to feedback regarding being too far from family members, or missing certain aspects of my home culture — I do think it's an ongoing challenge to achieve a balance between one's new life abroad and that of your old comfort zone: your family, friends, foods, etc.
I always miss my son, who is off building a career as a future ornithologist (or whatever he wants), as well as other members of my family — as well as my small group of friends. I miss speaking American English and the nuances that come with deep cultural familiarity.
And I miss delicious wine and cheese. :(
---
Finally a comment about this newsletter group. Someone mentioned that I should turn it into a community. In fact this newsletter turns into a community when you click on the "Leave a comment" button below. It brings you to the newsletter's website, where there's a Community button. You will have to click on the money icon (upper left) to get to the home page. The Community button is below the photo of Cattle Egrets feeding in a rice field. It's not a perfect solution but for now let's give it a try.
Rest assured I read all of your comments. So feel free to continue the conversation.
A key aspect of community is sharing. According to my survey 72% of you find that my writings about low-cost living in Bali is inspirational. If that's the case, then if you share this newsletter with 10 people, 7 of them may also become inspired! :)
In any case, thank you for your feedback and I hope my explanations helped.
Later
Neill