When I was a young lad (I'm 63 now) I was fortunate to learn tennis when no one cared about it. Then all of a sudden it became popular (thanks to John McEnroe and Bjorn Borg), and so I got a job teaching tennnis for $10 an hour at a local club. My friends were probably making $2 an hour. On top of that I let a few key clients know that I could teach them for $25 an hour at a public court, saving them $35! Not entirely ethical but a few folks took me up on my offer.
After one year of college I became ambivalent about studying what my parents wanted for me, accounting and business, and what I wanted for myself — philosophy and psychology. So I quit college and taught tennis, saving about $1,800. I went to Europe with a pre-paid, two week Eurail pass and quickly wrote home, saying that I'm staying for as long as my money lasts. I arrived back home five months later.
I met so many amazing travelers. People who spent years on the road. From so many different countries. At the time I promised myself I would someday live in another country, at least for a year or two.
40 Years Later…
I moved to Bali.
This email is about taking personal responsibility for your actions. We are not going to assign blame, nor are we going to judge.
I want you to carefully think about what it is you are doing and whether those actions are leading to a future you want.
---
On my other website I wrote a piece based on a story from "Chop Wood Carry Water" by Joshua Medcalf. It is a zen tale on how to achieve your personal best. One of the more interesting stories is about a Tokyo architect Kota (no last name) who spent his career building homes with incredible exactitude and devotion. After many, many years he became tired of building homes for others and decided to retire.
One day he handed in his two-week notice but the boss asked him, while acknowledging all of the amazing work that he'd done for the firm, whether he would please build just one more house. It was for a very important client and the boss needed Kota's magic touch.
After agonizing over the decision he decided to build the house. But his heart was no longer in it. He viewed the job as an obligation and consequently a lot of the exacting details fell through the cracks. After four months the house was finished. Kota was ready to move on to the next phase of his life.
When he told the boss the house was finished the boss reached into his desk and handed him a small black box with a red ribbon around it. Inside were shiny new keys. The boss said, "The house is yours! You deserve it!"
Kota was crushed. The entire time Kota was cutting corners in order to get this last job out of the way, all the while unknowingly building his own house.
Akita, the master teacher in the book, explains, "Each of us are building our own house. Sometimes you might think you are building for your school, your family, your company, or your team, but you are always building your own house... I hope you build wisely."
You can read the entire post here.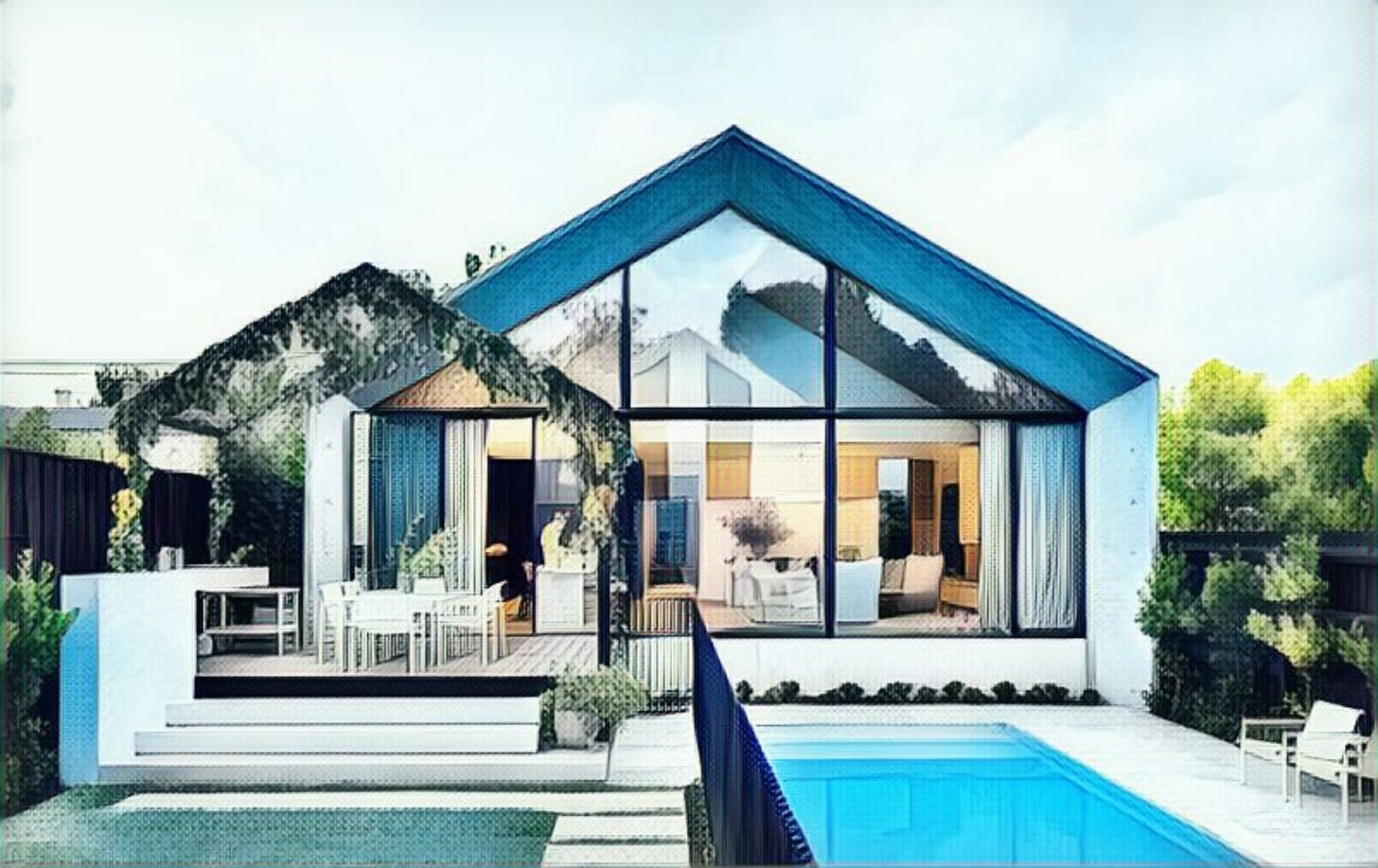 What "house" are you building?
Whatever your current profession or role in life, you can ask yourself, "Am I building the best house for my future?" The steps you are taking, even trivial ones such as buying coffee at Starbucks each day, are pieces or bricks of your house.
Let's analyze one very small theoretical decision:
If you're going out and can't decide whether to take an umbrella, you could come to a decision by following a formula that assigns weights to the probability of rain, the pleasure you'll feel in strolling unencumbered, and the displeasure you'll feel if you get wet.
If deciding about carrying an umbrella can be this complicated, then what about something as major as leaving your home country?!$#
Making big decisions about your future is far from easy. Even someone as fastidious as Benjamin Franklin thought so:
"The craft of making farsighted choices—decisions that require long periods of deliberation, decisions whose consequences might last for years is a strangely under-appreciated skill."
Creating a Community
The good news is that you don't have to make these "farsighted choices" alone. This small newsletter series can grow into a community, both online and in the flesh.
For those seeking online support, share your thoughts here:
For those wanting a physical community, I have already built a small hotel here in Bali and have learned a great deal about the construction process. Together we can build a safe, peaceful and stimulating community without massive amounts of $. The cost per square foot is under $50. That's about 1/6 the cost in California. So the possibilities are wide open.
This email newsletter is free, but for those considering co-building a community in Bali, you will need to cough up $30 for a one year subscription. Subscribers will receive emails specifically for the Bali community.
If you want to go it alone, and if these emails help you focus on the financial side of building your house, then that's wonderful. No need to subscribe.
This effort is not intended to be a profit-making venture. I genuinely am hoping to find enough folks who want to live without the financial restrictions in developed countries, in order to have a new type of freedom.
And maybe, just maybe, it will take you less than 40 years for some action!