I addressed some of the food options we have in Bali in a previous post. I talked about local foods and the meals that foreigners tend to go for. Indonesians need rice or noodles the way Americans need bread and potatoes. To a foreigner, rice may seem relatively bland, but to most Asians it is life itself. And to make rice increasingly delicious, you must add sambal.
Sambal is an Indonesianchili sauce or paste typically made from a mixture of a variety of chili peppers with secondary ingredients such as shrimp paste, garlic, ginger, shallot, scallion, palm sugar, and lime juice. Sambal is an Indonesianloan-word of Javanese origin (sambel). It is native to the cuisines of Indonesia, and popular in Malaysia, Sri Lanka, Brunei and Singapore. It has also spread through overseas Indonesian populations to the Netherlands and Suriname.

Read more here.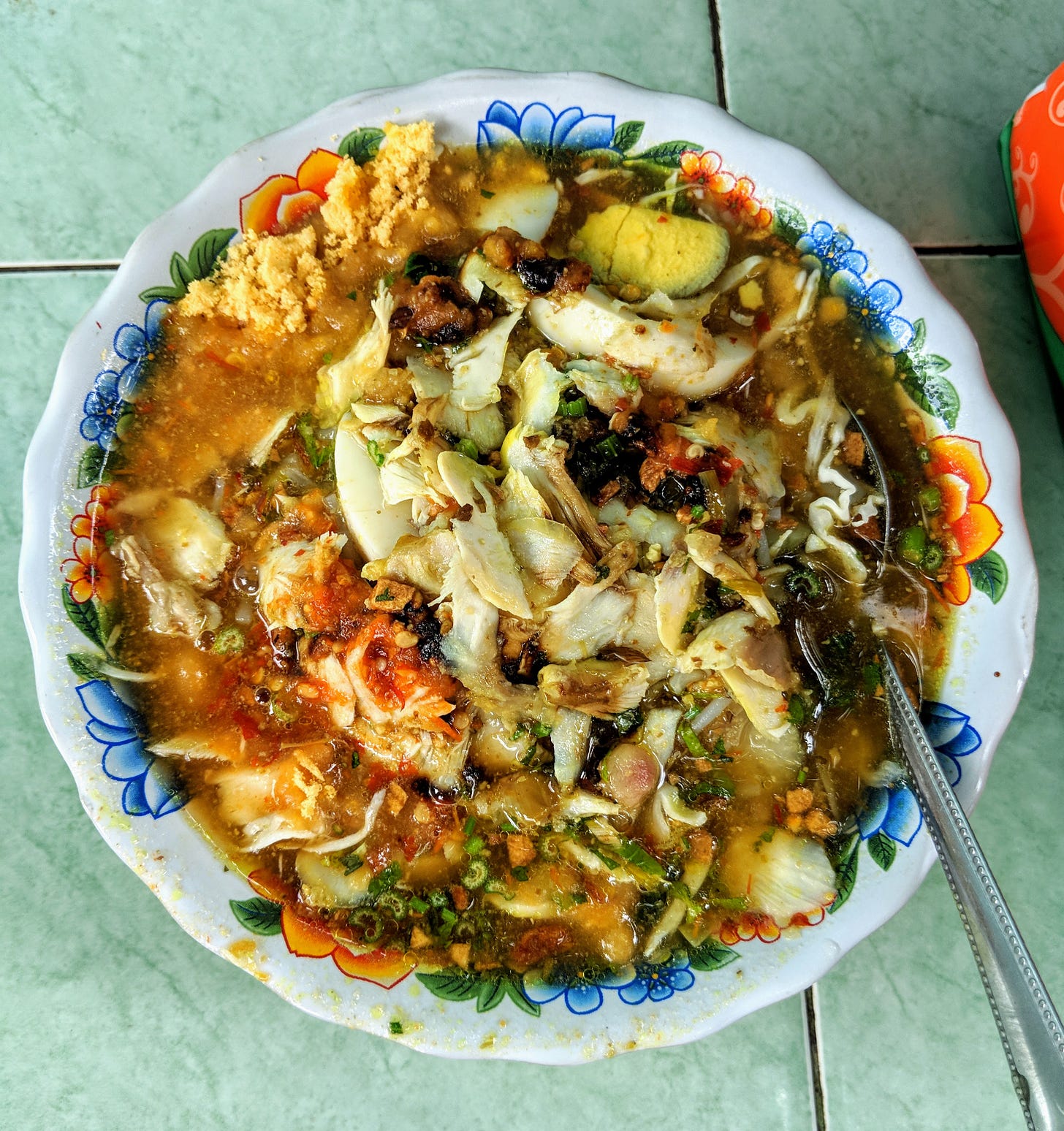 Above is chicken soup, better known locally as Soto Ayam. It may look a little overwhelming as there's probably 20 ingredients in this rich, homey soup bowl — along with at least two sambals. The cost: 15,000 rupiah ($1.03 USD), sold by a pushcart vendor that only makes Soto Ayam.
---
Budgeting for monthly restaurant outings is tricky business as there tends to be a lot of factors involved during the decision making process. What am I in the mood for? Should I eat at home and save money? Or shall I splurge just a bit tonight?
Of course during the current pandemic this issue is perhaps not critically urgent, but the idea is to create a monthly budget that you stick to month after month, assuming your financial circumstances are stable.
Speaking of atmosphere
One of the benefits of being on an island is that there's loads of beaches. And who doesn't like to eat or drink (or both) with the waves crashing in the distance, or the sun setting on the horizon?
Omnia Day Club is just one example of maybe two dozen over-the-top scenes along the island's edges. Eating (and drinking) at any of these places will not necessarily break the bank, but to put it in perspective you could eat at perhaps six local warungs instead:
A warung (old spelling waroeng or warong) is a type of small family-owned business — a small restaurant or café — in Indonesia, and to a lesser extent, Malaysia. A warung is an essential part of daily life in Indonesia. Today, the term warung has slightly shifted — especially among foreign visitors, expatriates, and people abroad — to refer more specifically to a modest Indonesian restaurant or a place that sells things Indonesian (mostly groceries or foodstuff).But for the majority of Indonesians, the meaning is still a small, neighborhood convenience shop, often a front room in a family's home.

Read more here.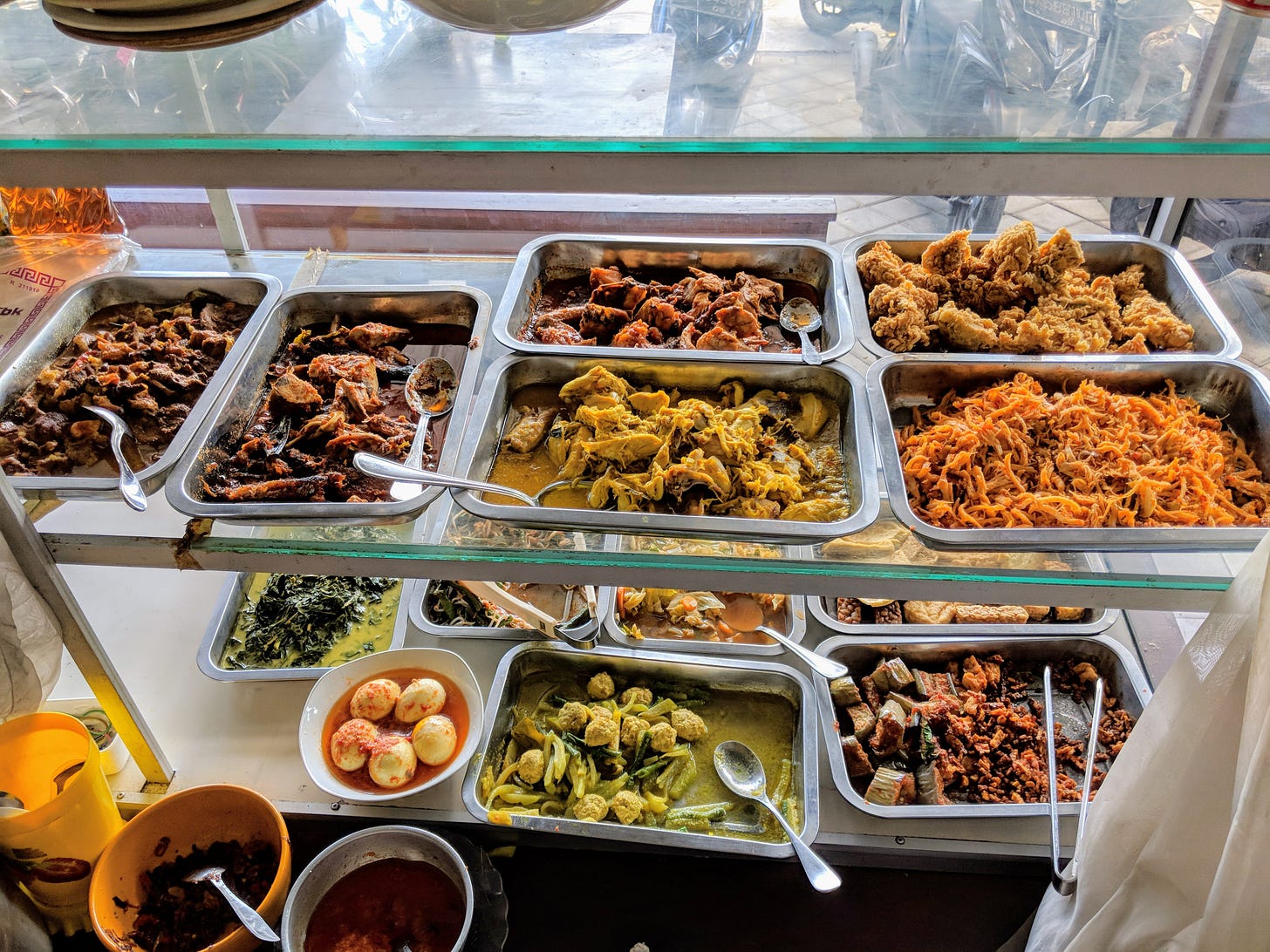 Above photo: a warung in Bali. Not quite the same atmosphere as Omnia Day Club, but far easier on the wallet.
While food and ambiance is connected to one's emotions, quantifying your monthly costs may seem too abstract. Of course if you're on a strict budget that will help you in staying consistent. But given how much you will save by living in Bali, let's hope there's some wiggle room to enjoy some of the finer things this island has to offer.
This?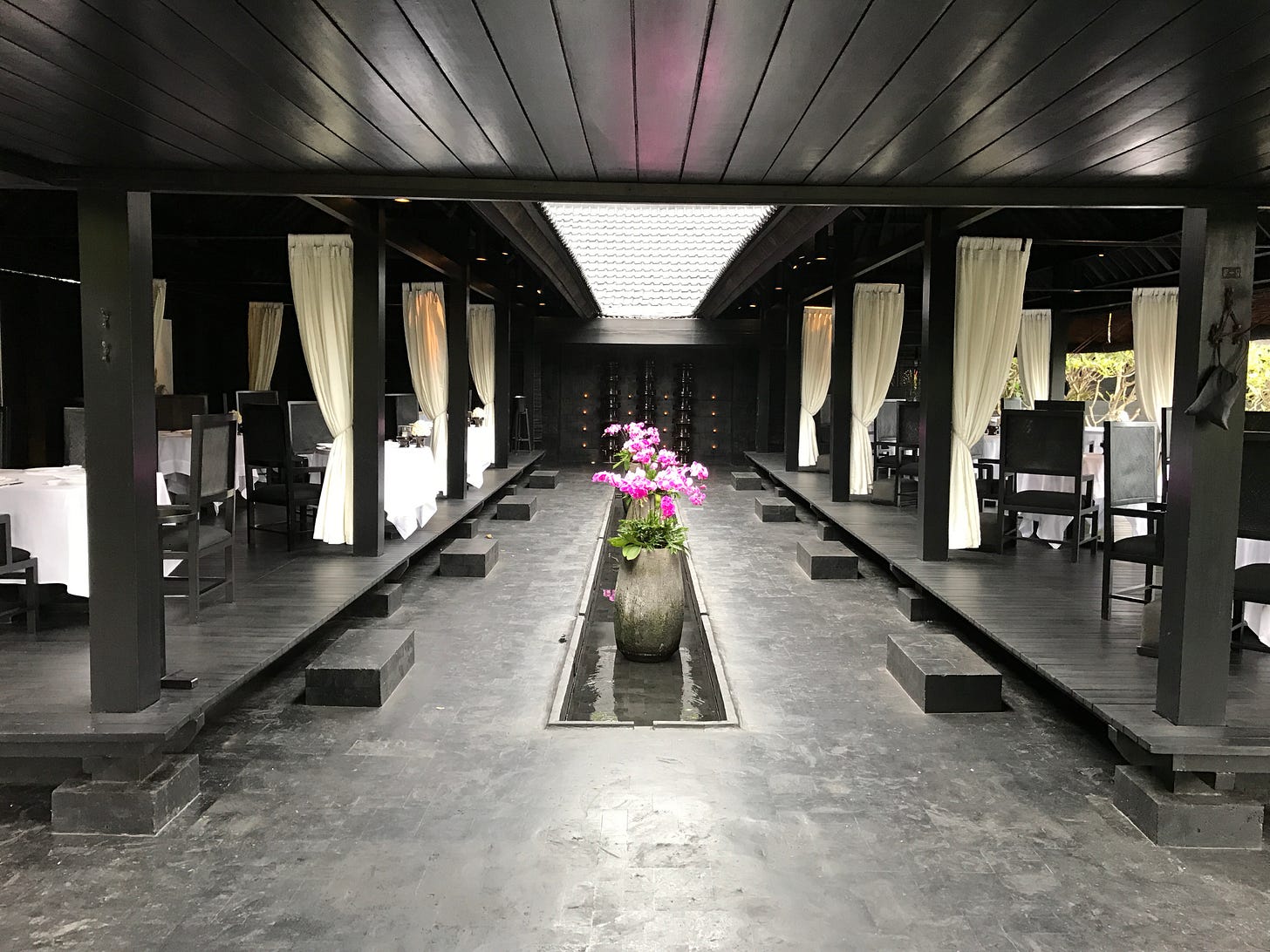 Il Ristorante at Bvlgari Resort, Bali.
Or
This?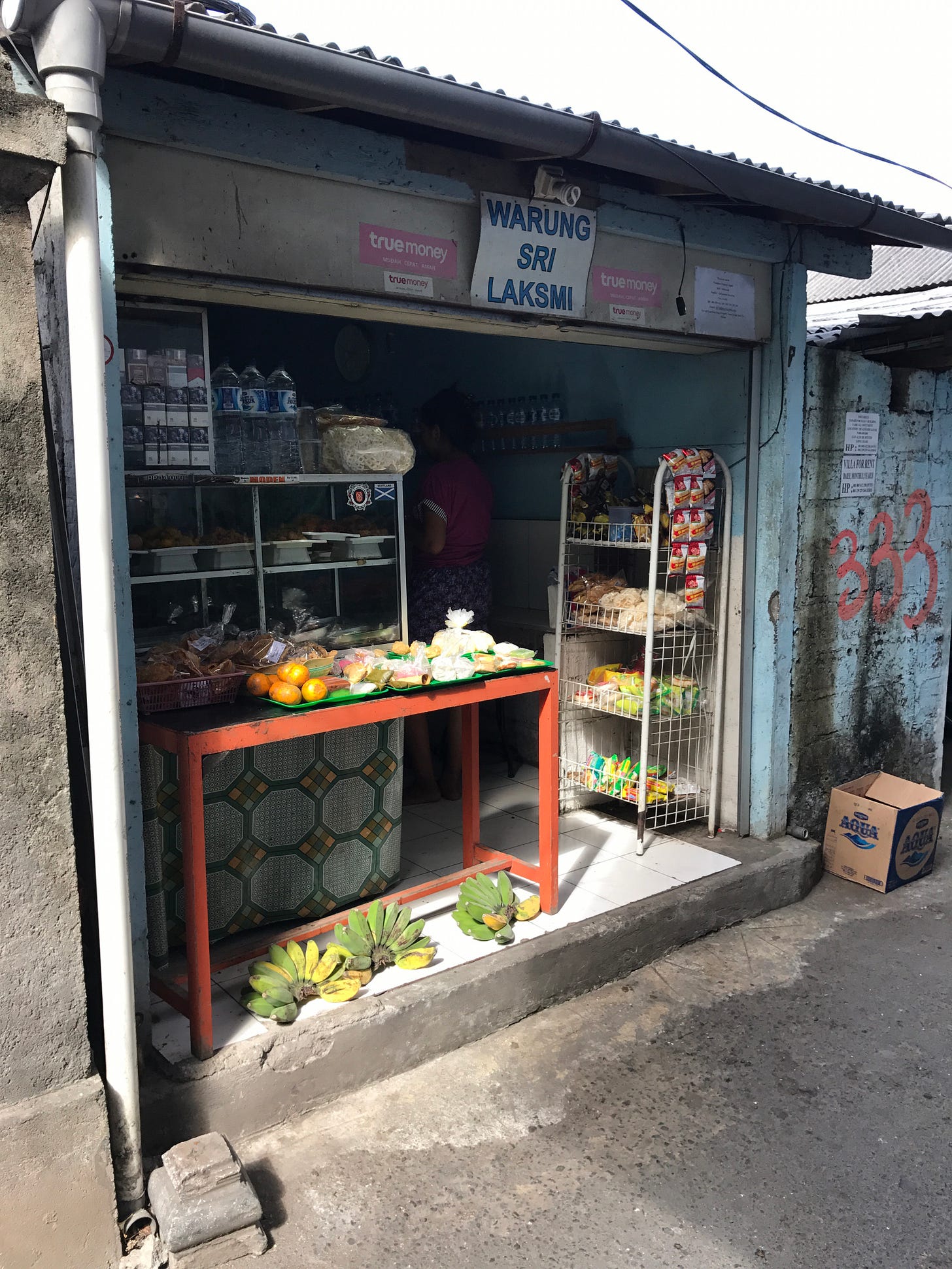 Given the gamut of food choices in Bali, let's just make an estimate and say you'll eat 3 lunches and 3 dinners at restaurants each week. How does that sound?
Spreadsheet update: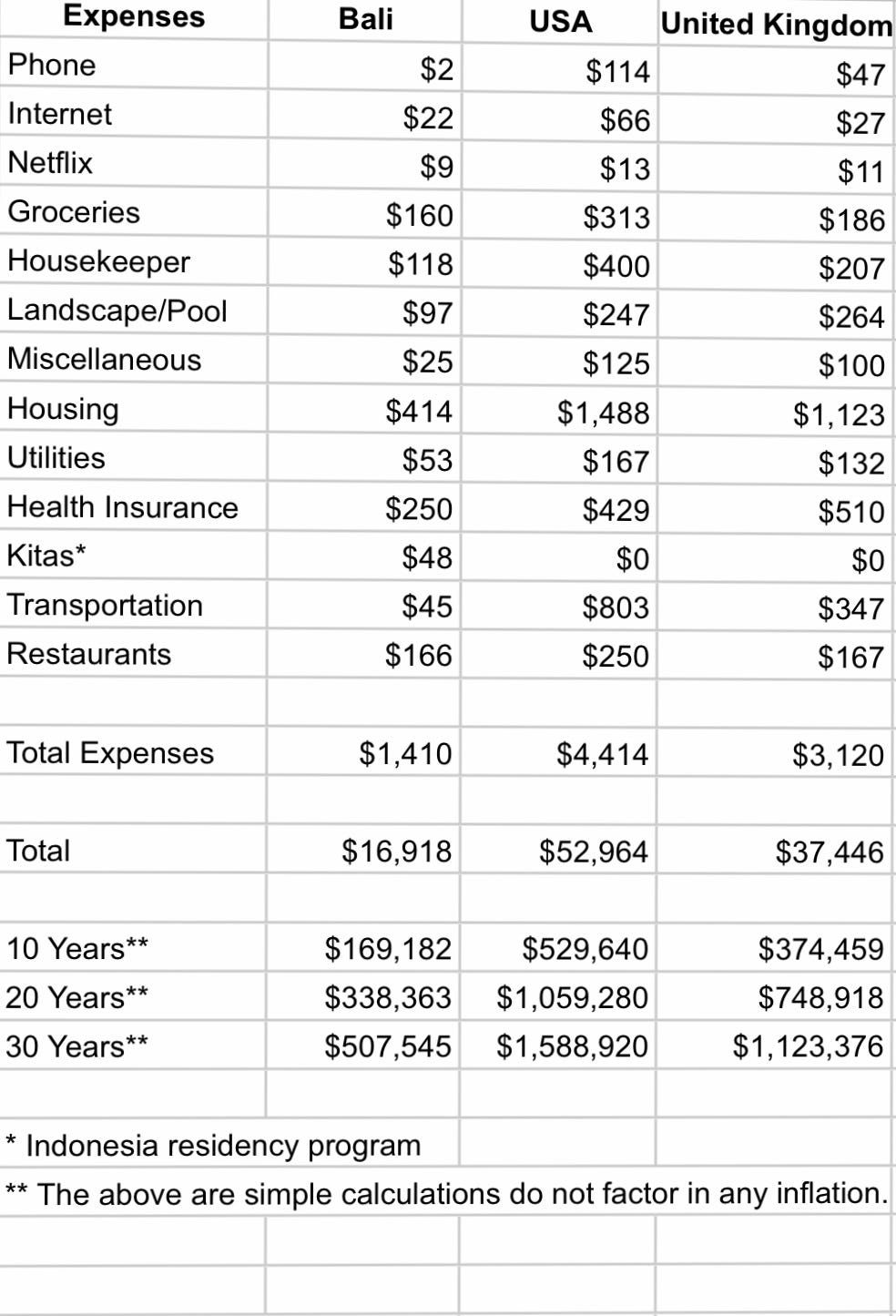 In Bali we can estimate your average local-style lunch or dinner will be 70,000 rupiah ($4.85 USD), while bulé (foreigner) lunches / dinners are 130,000 rupiah ($9 USD). If we say that 1/2 of the time you'll eat locally and the other half at foreigner joints the math is 12 local meals x $4.85 + 12 non-local meals x $9 = $166 USD.
In America it costs about $250 a month per per on average to eat outside the home. In the UK it costs $167 USD per month.
In summary it is fair to say (and quite obvious) that you can eat a lot more outside of your (future?) home in Bali than you can in the USA or the UK. But like all of the lines on the spreadsheet, they are estimates and averages, not exactly your particular style.
When thinking about your future you can start to prioritize how important each of these spreadsheet line items are. And as you do the math 10, 20 or 30 years into the future you can see how your decisions have major ramifications. By doing so you can better prepare for the outcomes you truly want.
Later
Neill