Housing: renting vs owning
Who thought that having a roof over one's head would be so complicated?
Most accepted wisdom on the subject of owning versus renting a house concludes that ownership is the better option. The most important factor is stability. Unless the government suddenly decides to put a highway through your living room, you normally get to stay in your house forever, unless of course you can't pay the mortgage.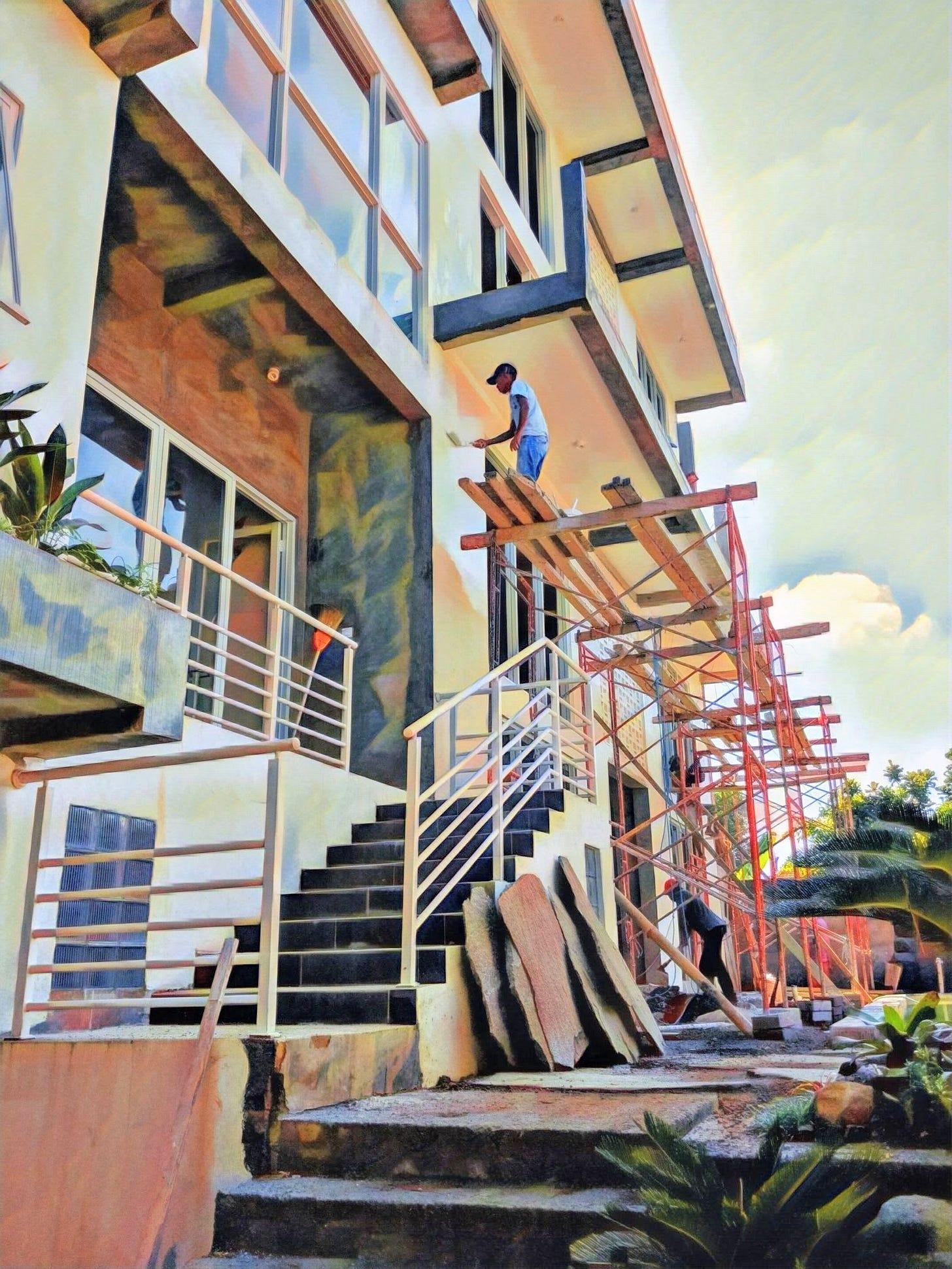 But:
Owning a home that you live in is an expense, not an investment. An investment is one that generates cash flow. Sure, there are some benefits of owning a home, but when you factor in the costs, tying up large amounts of capital, illiquidity of the home, and that house prices don't always go up, it makes for a much less attractive "investment."

Read more here.
While stability for an older person is very important, we must also consider the headaches and hidden costs of home ownership. Here are just a few items worth mentioning:
Property taxes

Trash pickup

Water and sewer service

Repairs and maintenance

Pest control

Tree trimming

Homeowners insurance

Pool cleaning (if you have one)

Lender-required flood insurance, in some areas

Earthquake insurance, in some areas
A key thing to keep in mind about owning is that homes are an illiquid asset. Meaning that when you need a large amount of cash quickly you may not be able to get it, unless you have a lot of equity in your home and have established an equity line of credit.
While owning a home tends to go up in value over time, few people take into consideration what would happen if you invested the money you saved in bank interest payments, repairs and renovations, lawn care, insurance, etc — in the S&P 500 (the top 500 companies in the USA stock exchange). Historically, the S&P 500 has earned on average between 10-11%.
Not every dollar invested in a home stays "above water." For example home renovations, while aesthetically of value, are a money losing proposition:
On average, you'll get back 66 cents for every dollar you shell out on a home improvement project, according to Remodeling magazine.
Can you live in the same house for 30 years without renovating? It's unlikely.
If you are old enough or rich enough to not have a mortgage and are sitting on $320,000 (USD), which is the median home value in 2020 in the USA, you could theoretically earn $32,000 annually if you invested in the S&P 500. That's $2,667 per month. A very lovely villa in Bali could be yours (to rent) for $1,000 a month. You'd have approximately $1,667 towards your other expenses, not counting social security or any other investments you may have. Of course there's the Tax Man to deal with, but I think you get the picture — owning a home and thinking of it as an investment has its limits.
---
Renting must be a better deal, right? Not exactly. 1) You have a landlord, and 2) Rent can go up unpredictability. But so can your mortgage if it's variable-rate (meaning it goes up or down depending on Federal interest rates).
As a renter, though, you do face unpredictable rent increases each time your lease is up for renewal unless you live in a city with rent control and your apartment is covered by it. If you live in a desirable part of town, rent increases can be steep, while if you get a fixed-rate mortgage, your monthly house payments will never increase (though property taxes and insurance premiums probably will).
The best part about renting is the opposite of the main benefit of owning a home: you can easily move on.
Another benefit of renting is you know exactly how much you will spend every month on housing (at least until the lease runs out). Not so with owning a home:
When you own, you might pay nothing more than your mortgage and regular bills one month, and an additional $12,000 on a new roof the next…

Read more here.
---
Utilities:
In Bali you can expect to pay about $65 USD per month for electricity. The bulk of that goes to air conditioning in the evenings, and your refrigerator. Since its tropical 12 months a year, you don't need to run a heater! In the USA the average utility bill is $167 a month. In the United Kingdom the average utility bill is $132 USD.
---
Expat Issues:
In Indonesia foreigners cannot own land in their own name. You can lease a property and be named on the lease for 30 years or more, with rights to renew at market rates, but in order to own freehold land you must designate an Indonesian citizen as a nominee. Your lawyer or notary will require the nominee to sign a legal document stating that the nominee has no rights to the property. It's not as perfect as having your name on the deed, but if you pay the nominee 1% of the land value when you buy and sell the property it all works out.
For the moment, if you are considering a life in Bali (or another developing country), don't worry about owning versus renting. Just visit (tourist visas have a 60 day maximum) and check out the island. You will know within a few weeks whether Bali feels right for you.
The Community Solution:
The above discussion was focused on living on your own. You would be hiring your own people to fix your roof, etc. In a community the headaches of owning your own home go away. The community will manage everything from lawn care to pool maintenance to trash pickup to pest control. There's a monthly Home Ownership Association (HOA) fee to cover the maintenance items. In Bali we can keep those costs down (as we already discussed local salaries, etc).
Land ownership:
The land can be owned by an Indonesian foreign investment corporation that our community can set up. We can also set up a non-profit cooperative in a developed country that partners with the foreign investment corporation. Then each of us can buy stock in the co-op and be granted an unlimited proprietary lease on the villa or apartment of your choice.
Spreadsheet update: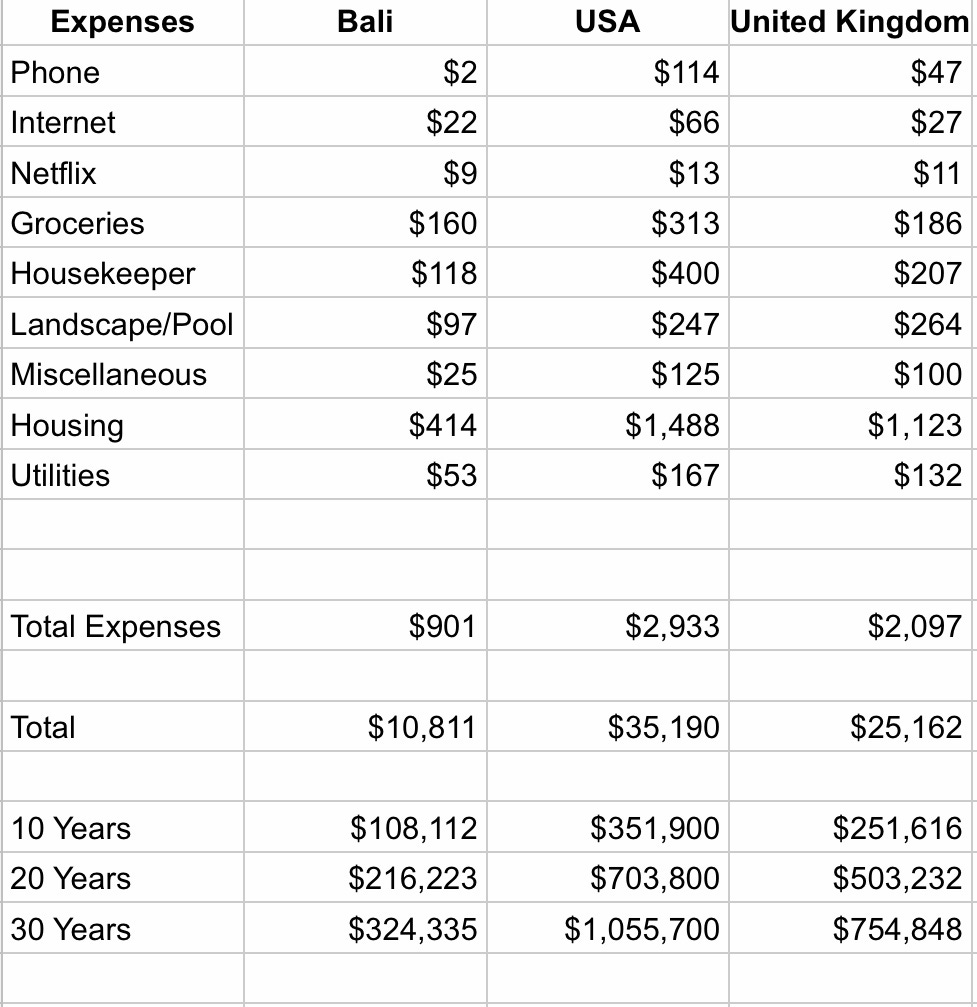 The average mortgage payment in the USA is almost equal to the average rent ($1,500 vs $1,476). In the UK the average rent is $1,173, while the average monthly mortgage payment is $816. The numbers in the spreadsheet are the result of adding the rent and mortgage numbers together and then dividing by 2 to get an "average" result.
The Bali housing cost is based on yearly, as opposed to monthly rental rates, as monthly rates are substantially higher. This place near Canggu seems pleasant enough: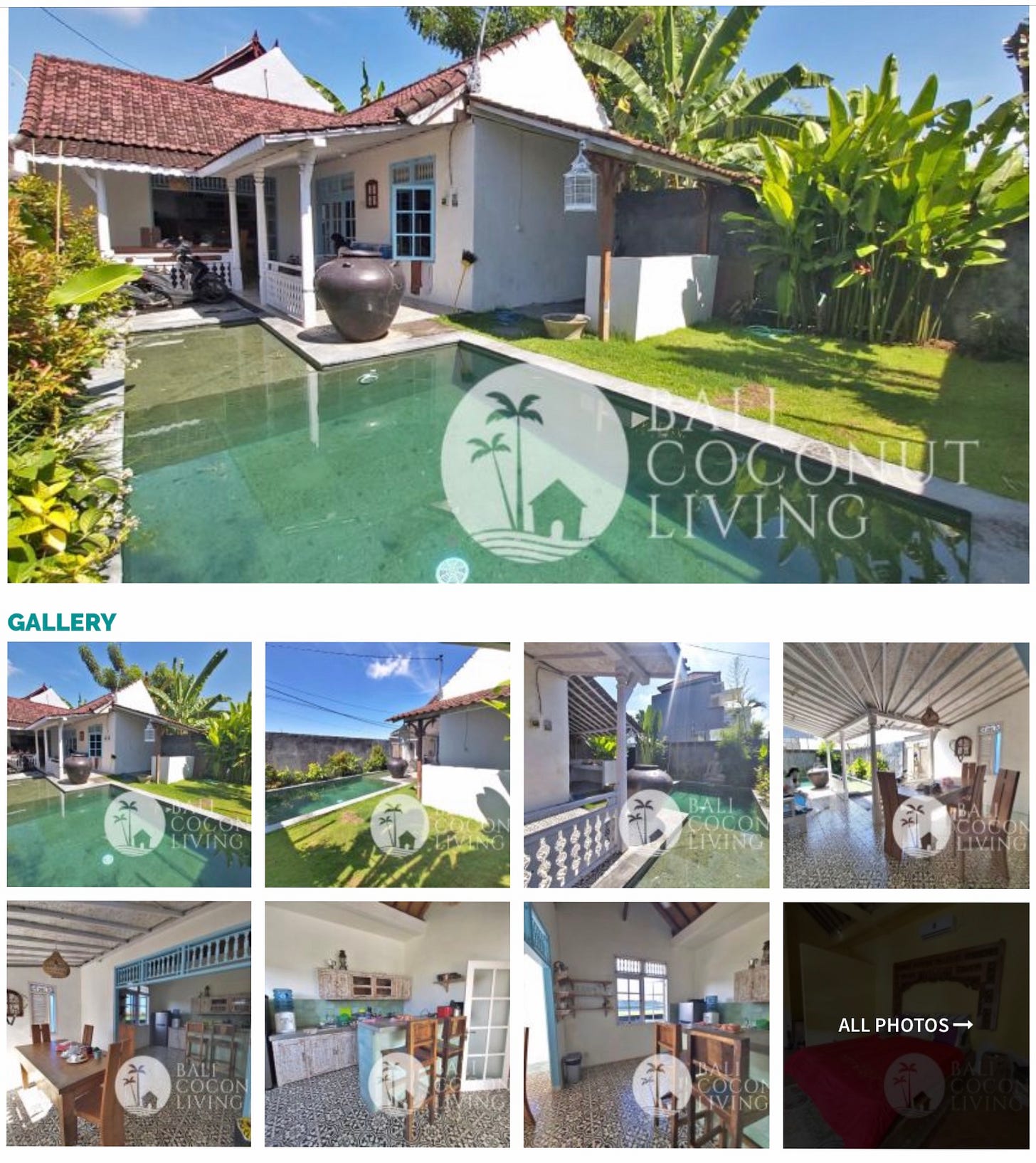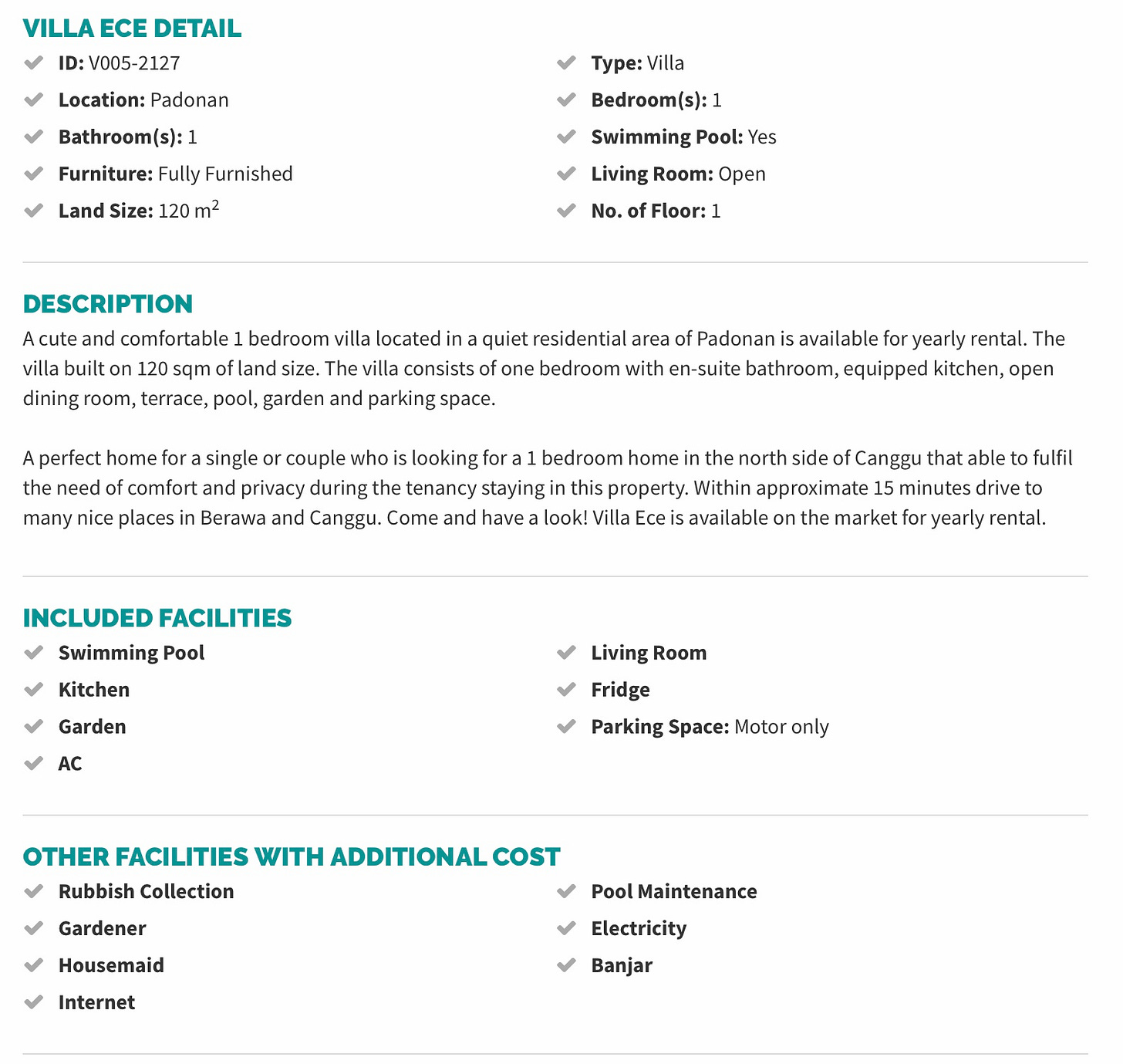 The additional fees have been covered in other posts, except for the Banjar and rubbish fees. The Banjar is the Balinese neighborhood community. They typically charge $14 a month. Rubbish for one large bin is $7 a month. We can roll these costs into our miscellaneous budget.
---
You may have noticed that I added 10, 20 & 30 years of living expenses to the spreadsheet. This is to give us the big picture.
In summary, home ownership may seem like a smart investment, but there are other ways to obtain financial freedom that are worth investigating.
Whether you move to a developing country or not, hopefully this newsletter will give you some food for thought in regards to prioritizing your financial life.
"The goal isn't more money. The goal is living life on your terms." –Chris Brogan
Later,
Neill