Let's start with a peek into the history of insurance on a particular day:
On the morning of April 18, 1906, at 5:13 AM, an earthquake registering 8.3 on the Richter scale tore through San Francisco. The earthquake itself only lasted 45-60 seconds, but was followed by massive fires that blazed for four days and nights, destroying entire sections of the city. Making matters worse, the earthquake ruptured the city's water pipes, leaving firefighters helpless in fighting the flames.

Eventually, the earthquake and ensuing inferno destroyed 490 city blocks, some 25,000 buildings, forced 55–73% of the city's population into homelessness, and killed almost 3,000 people.

Read more here.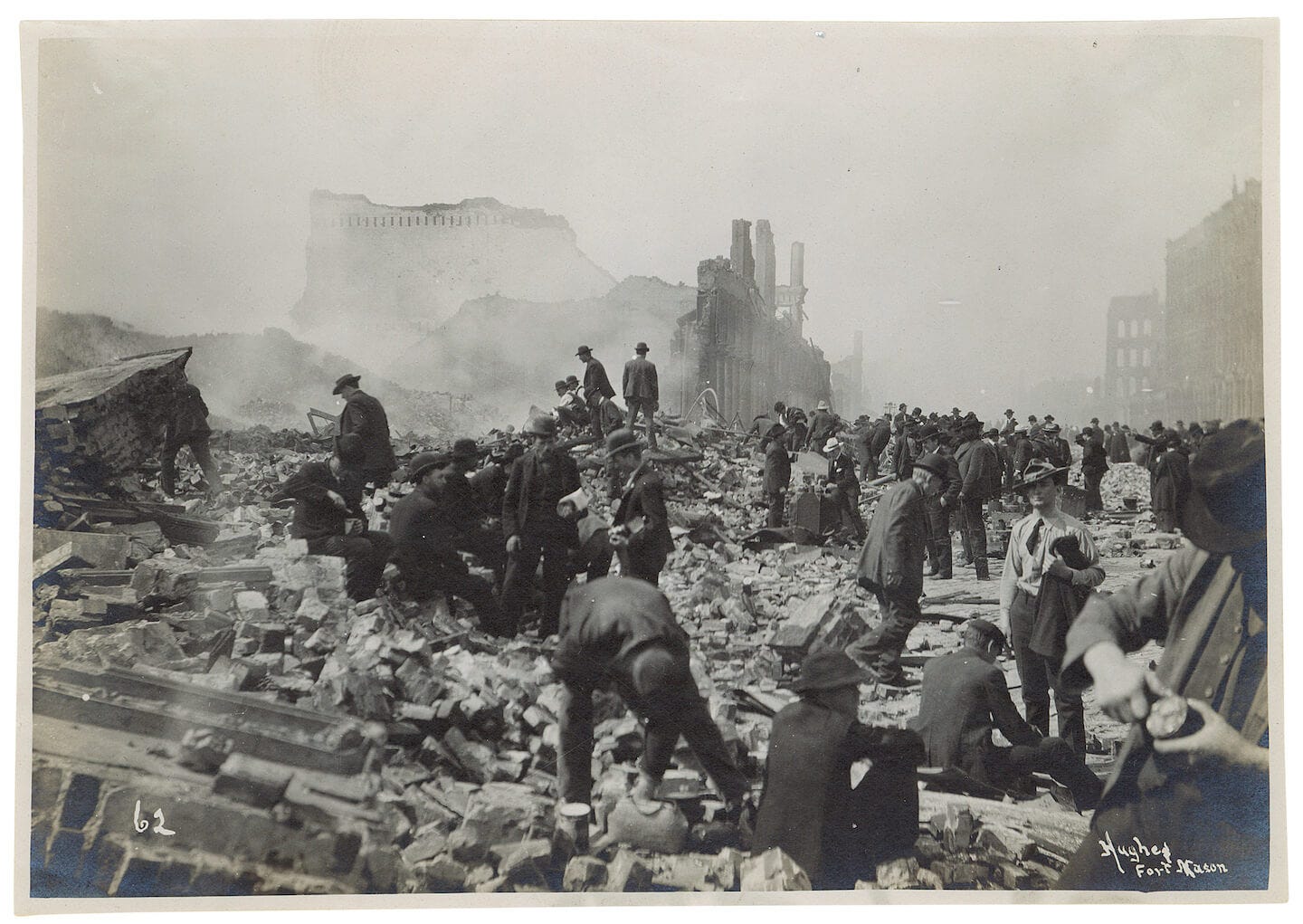 Turns out there were several British firms in San Francisco offering home insurance, and surprisingly, about half of all the policies in the city were written by them. Realizing their predicament immediately after the earthquake, the firms released a statement:
"The insured can only collect on a building fired while standing. Once a structure is shaken down by earthquake the writers of insurance on it are not liable."
How did the San Franciscans react? They started to burn their own homes down. In the end 14% of Britain's total gold reserves had to be shipped to San Franciscans to cover their losses.
What about the homes made of bricks, as the photo above shows, that crumbled even before arson fires could be lit? I imagine the insurance companies were able to weasel their way out of quite a few payments.
Fast-forward to our current covid19 pandemic:
Hundreds of businesses have sued insurers for refusing to cover losses stemming from the pandemic. More than a trillion dollars may be at stake.

Read more here.
---
When I first moved to Bali I didn't think twice about getting health insurance.
During that first year I went to the hospital twice: once for a dermatological skin scan, as I have had facial melanoma and basil carcinoma in the past. Fortunately the skin cancers have not returned, but I go for an annual body scan just to be safe. The second visit was for the removal of hemorrhoids, which involved maybe 45 minutes of out-patient surgery. My policy only covered in-patient care and so I didn't get reimbursed for the approximately $475 USD bill.
The hospitals in Bali are quite good. The doctors tend to go to medical schools in Western countries and so their skills as well as their English is very good. While Indonesia as a whole rates 92 out of 190 rated countries, Bali is well above-average due to its expat base.
By the second year I decided to avoid all types of insurance and just see how things went. My annual visit for a dermatology exam cost me $25 USD. And one time I got knocked off my scooter and went into a local Medical Clinic to get cleaned up.
It wasn't as bad as it looks. The clinic visit set me back about $70 USD.
---
Over time I made contact with a few insurance folks just to see whether I should get some sort of coverage. I'll share some results here: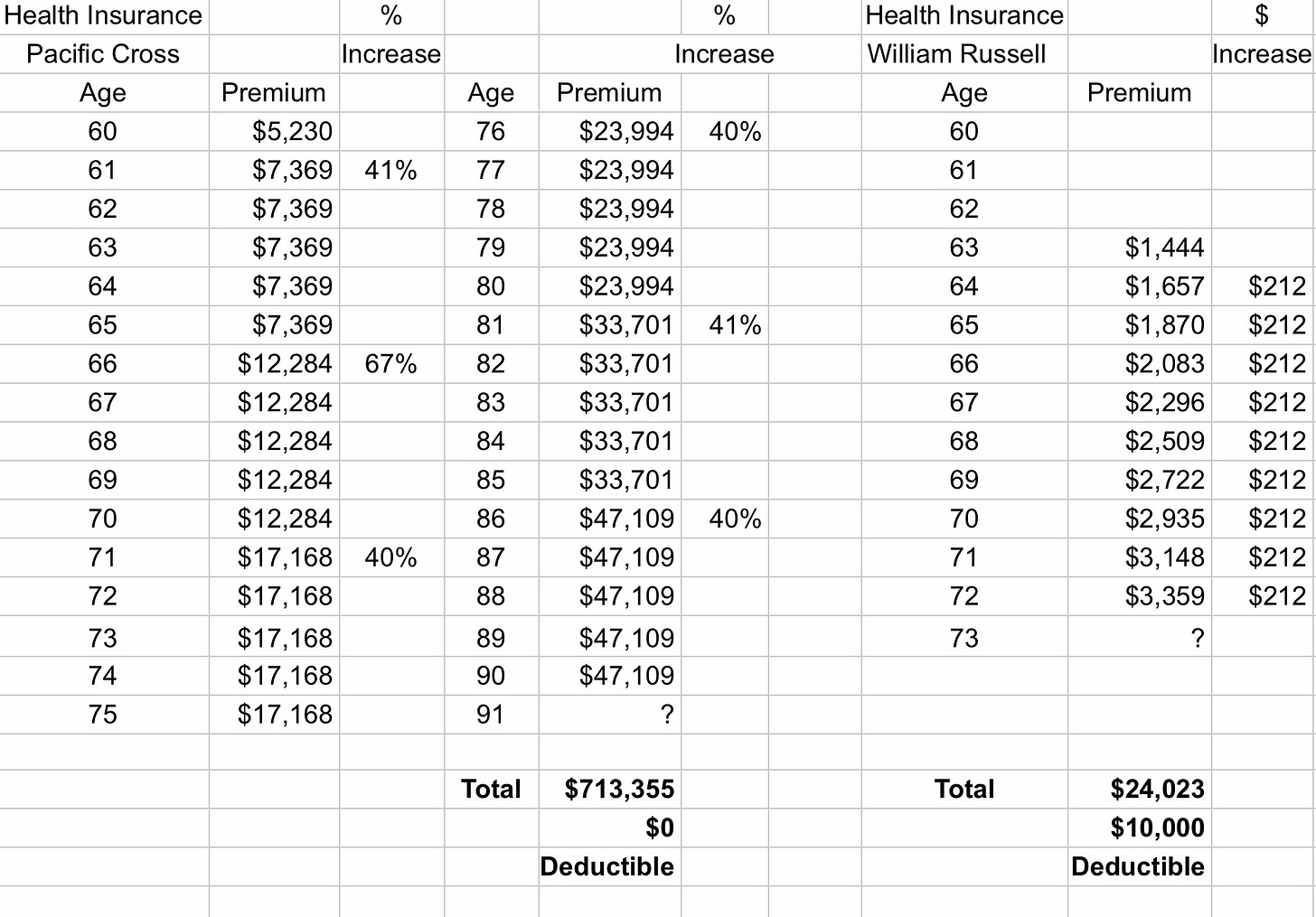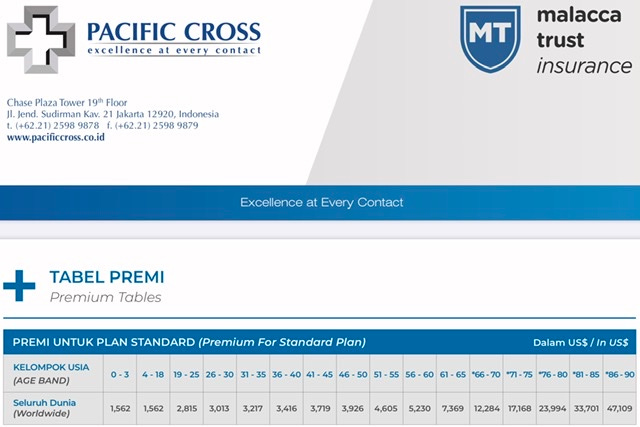 Pacific Cross was kind enough to give me rates until I turn 90 years old. They were the only company to give me rates that far into the future. If I were to need major surgery when I turn 91 I'm pretty sure I would be out of luck, in more ways than one:
surgery ain't fun or cheap

I wouldn't be covered, as the policy ends at 90 years old

I would have already spent $713,355 USD. That would be one mighty sad emoticon day lol.
I then detoured away from a fully covered plan like Pacific Cross and inquired about maximum deductible coverage. William Russell provides a $10,000 USD deductible plan at seemingly reasonable rates. However, they would only give me quotes until I turn 72 years old. Are they hiding something from me??? I suspect so.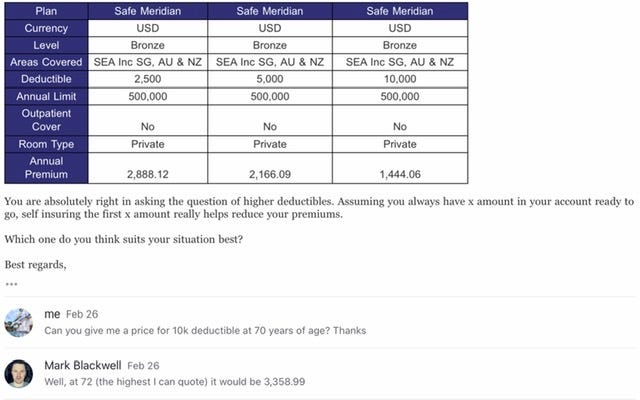 When you first start thinking about it, $120 USD per month seems quite reasonable. But then in 9 years it jumps to $278 USD per month. Not terrible but keep in mind the first $10,000 of any in-patient visit comes out of my pocket. In Indonesian rupiah that's 142,477,559. Secondly, the premiums will jump considerably when I turn 75, 80, 85, etc.
---
Speaking of customer service, some of these insurance companies don't seem to enjoy getting back to their customers: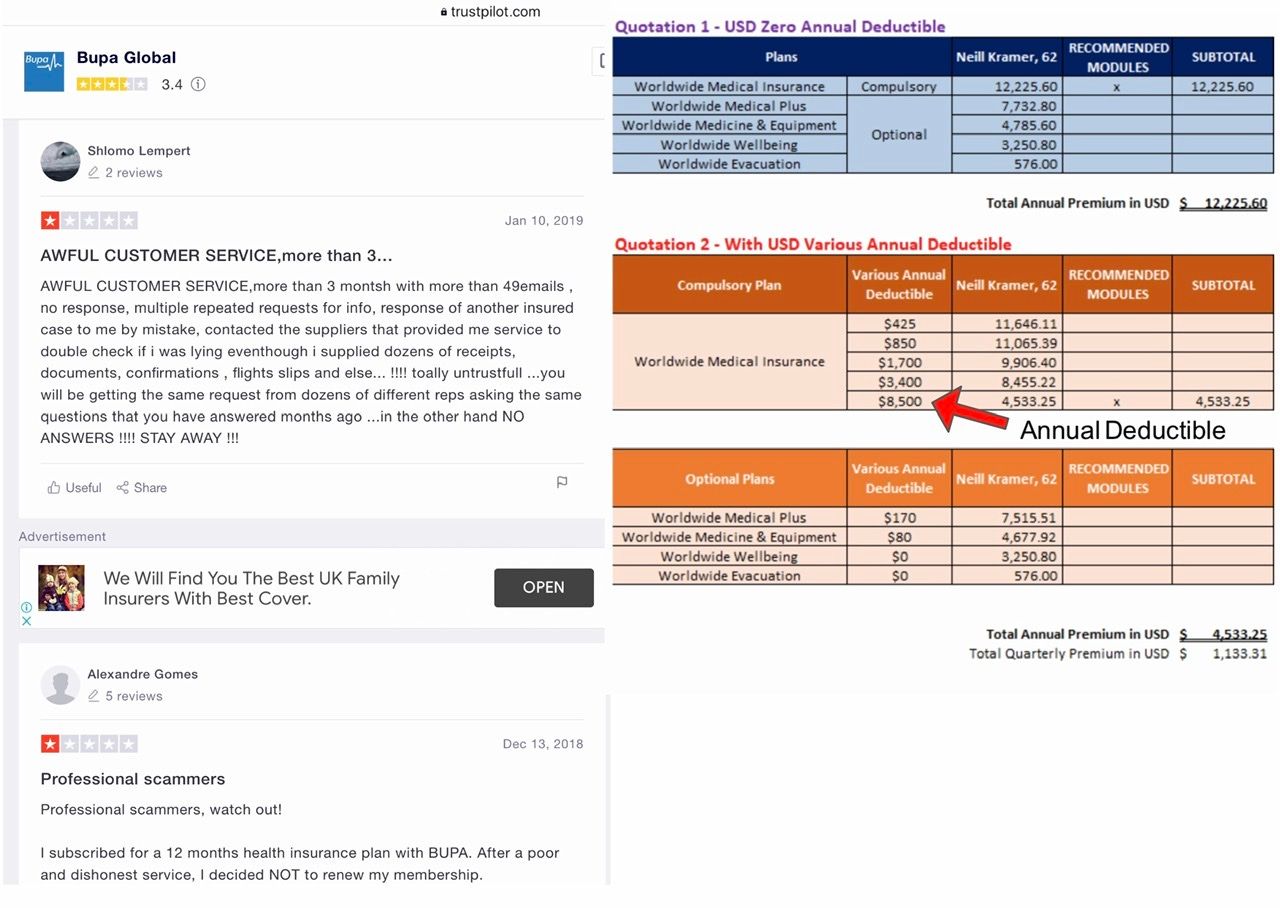 49 emails! I'm not sure this person is telling the truth, but the people who are driven to write a review on TrustPilot tend to either love or hate their products.
Some of you may be thinking, why not go with a leading American brand, such as Aetna? At $11,886 USD a year at my current age (63), you can imagine what the premiums will be when I'm 75 or 85. Ouch! Even if the above rate remained the same (which it most assuredly would not), 15 years X $11,886 = $177,990.
---
The Kitas
In Indonesia, and like many countries who try to attract retirees, there's a long-term stay program for people over 55 years old called Kitas. Essentially it allows you to stay for a full year without leaving the country (unlike tourists who must leave after 60 days or renew their tourist visas outside of Indonesia). In addition there's a variety of other benefits such as discounts to cultural institutions and temples, etc. But the major plus of a Kitas is discounted rates at hospitals. There are three pricing tiers in Indonesian hospitals: the local rate, Kitas rate, and tourist rate. So if you show your Kitas, which costs $575 USD a year to obtain, you will get a significant discount.
Beside the Kitas, my other solution is: put money into a separate account each month and don't think of it as ever belonging to you. There are several new fintech companies out there that make it easy for you to move money each month into an investment plan. Two that I like are M1 Finance and Betterment.
In addition, and this is very important, stay consistent with an exercise ritual you do every day. This is part of any sensible health plan for any age, but it's especially critical for older folks.
If you need convincing, you can think of exercise as paying for your health insurance bill without shelling out anything but your time (and perhaps some exercise equipment).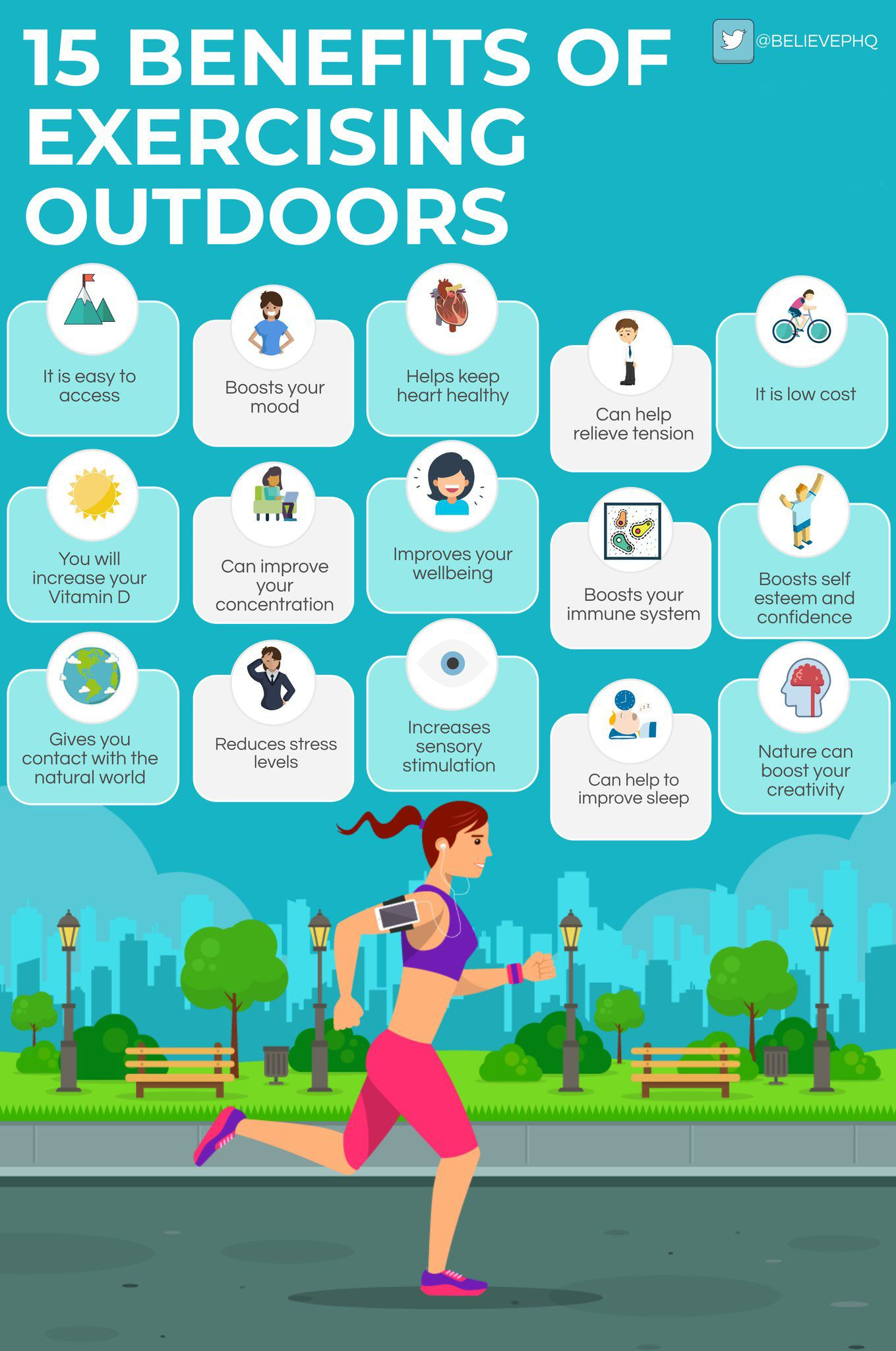 Besides exercise, a proper diet and limited (or no) alcoholic beverages are part of the plan too. And finally, limiting stress (financial or otherwise) is also on the menu.
---
Spreadsheet update: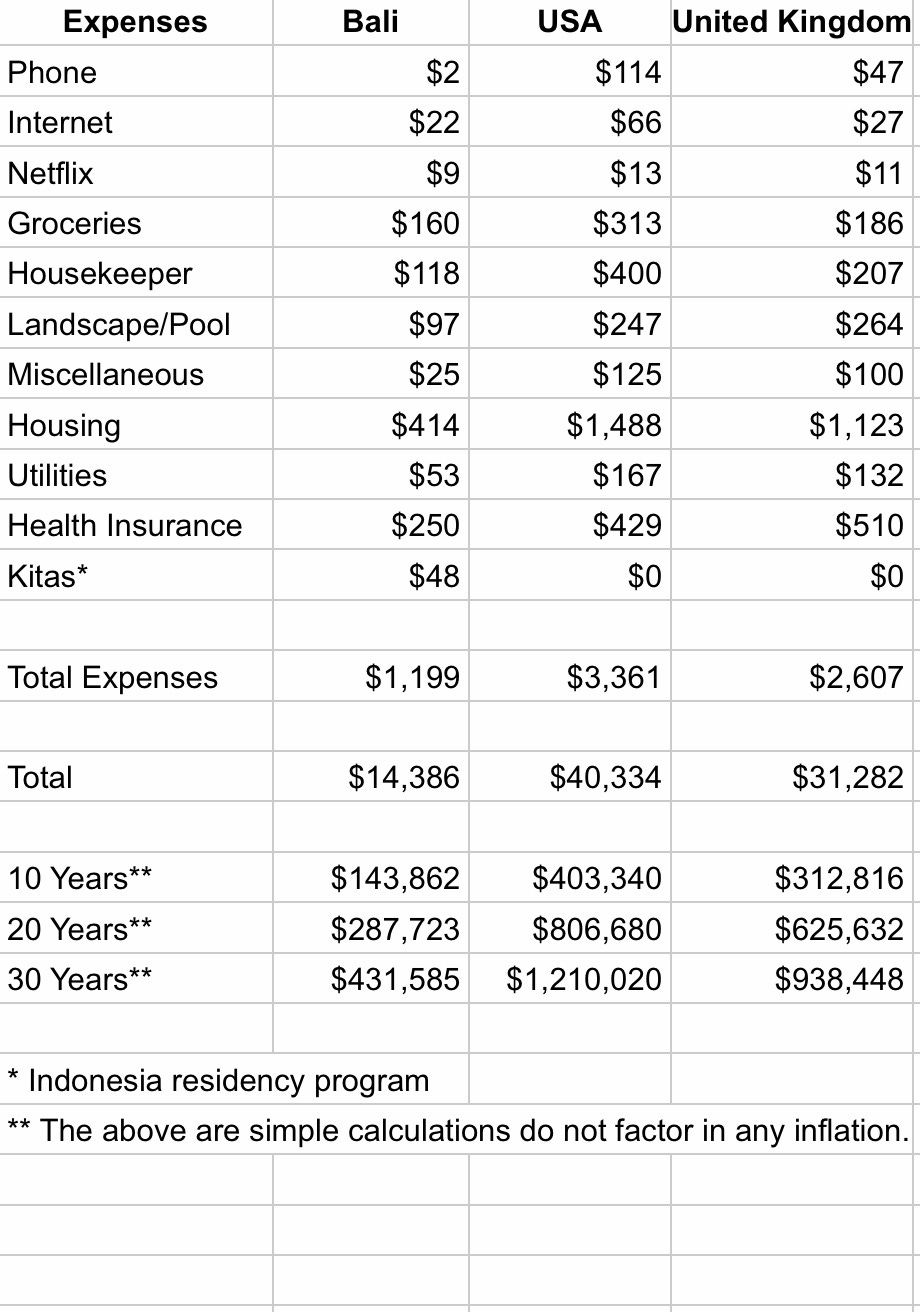 For Bali I am going to save $250 per month for health care. (In the USA I can still use Medicare for 80% of health coverage when I turn 65 years old. For $145 you can get what's called Medicare Part B if you earn less than $87,000 per year, which would cover the other 20% of health costs.)
I've also included the cost of obtaining a Kitas, spread out over 12 months, although you will have to pay an agent the full fee upfront.
In the USA in 2019, annual premiums for health coverage for a family of four cost $20,576, but employers picked up 71% of that cost. For the spreadsheet I divided $20,576 by 4 since we are calculating for a single person.
In the UK 13.8% of employee's earnings go to social insurance, which covers health care. So I'm going to use 13.8% of the average salary in the UK, which is 35,423 £ ($43,745 USD).
---
I brought up the San Francisco earthquake (and a reference to our current pandemic) in order to illustrate the fact that insurance companies can be very creative about denying coverage. Peruse around trustpilot.com and you will come across horror stories from paying customers.
Imagine being 85 years old, of sound mind but ill enough to be admitted to a hospital, and then having to hassle with your insurance provider for a payment. It's not a pretty thought.
On the other hand, having to set aside money for hospital procedures is a gamble, as the money may not be enough. I'm hedging that gamble by living in a developing country that includes a discounted seniors program (Kitas).
---
If you ask people if they would like interventions if they were on the cusp of death,
and already living a low-quality of life, they typically say "yes," "yes," and "can I have some more please." Blood transfusions, feeding tubes, invasive testing, chemotherapy, dialysis, ventilation, and chest pumping CPR. Most people say "yes."

But not physicians. Doctors, it turns out, overwhelmingly say "no."
Let me know your thoughts by clicking "Leave a comment" below.
Later,
Neill